Item # KD-CAMUSB
PTZ USB CAMERA, IR, RS-232 , VISCA CONTROLLABLE
Usually ships in 3-7 days
Log in to see if custom discounts apply
Case Qty: 1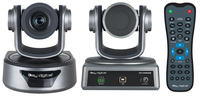 Item # KD-CAMUSB
PTZ USB CAMERA, IR, RS-232 , VISCA CONTROLLABLE
UM : EA

Brand:

KEY DIGITAL
USB 2.0 Pan-Tilt-Zoom Camera: Professional USB camera ideal for Video Conferencing and Capture applications in Huddle Spaces, Conference Rooms, Board Rooms, Lecture Halls, and more.
Compatible Operating Systems: Generic USB Video Class Driver for effortless use on Windows 7, Windows 10, Mac OS X, and Linux machines
Video Conference Software Support: Delivers professional PTZ features for popular video conference software such as Skype®, GoToMeeting®, Microsoft Teams®, Zoom™, RingCentral®, Google® Hangouts, and more
Soft Conference Enabling System: Use with Key Digital Presentation Solutions family including KD-UPS52U, KD-X100MRx, KD-PS42, and KD-X40MRx to add USB plug-in wall plates, USB/KVM routing and extension, Digital Video switching, integration with professional audio visual systems (use external microphones as KD-CAMUSB does not feature built-in mic), TCP/IP and KD-App ready control.
Multiple Mounting Options: Wall, and ceiling mounting hardware included.  May also be table surface mounted.
Recall & Store Position Presets: Up to 12 presets may be created, with up to 12 presets accessed via IR remote control on Home, Privacy, and numeric buttons.
Auto Focus: Fast and accurate auto focus via leading auto focus algorithm
Video Resolutions: From 320x240p @ 30fps up to 1920x1080p @ 30fps.  Adjustable via Windows camera viewer and conferencing software camera settings panels
Pan-Tilt-Zoom: Pan = ±170º.  Tilt = -30º to +90º.  Zoom = 10x
User-Friendly IR Remote: Provides intuitive and ergonomic control
RS-232: Bi-Directional control to/from KD-CAMUSB or via Key Digital Presentation Solutions Extender & Switcher units
VISCA Controllable: Responds to VISCA protocol for control by PTZ camera control consoles.  Supports addressing for multi-camera systems. 
Addressable: Up to 7 unique addresses for discreet control by RS-232 and/or VISCA systems

Control System Support: 

Compass Control® Pro ready. Fully controllable by all IR, and RS-232 supported control systems via open API.



KD-App Ready: When integrated with supported Key Digital Presentation Solutions Extenders and Switchers including KD-UPS52U, KD-X100MRx, KD-PS42, and KD-X40MRx.  Pre-built GUI populates offering PTZ controls as source selection and display/projector controls via CEC Manager™.