Item # ICW-6
WINDOW MOUNTABLE FULL DUPLEX SECURITY INTERCOM SYSTEM W/VOX. MAY BE USED IN HEADSET
Usually ships in 3-7 days
Log in to see if custom discounts apply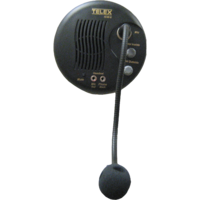 Item # ICW-6
WINDOW MOUNTABLE FULL DUPLEX SECURITY INTERCOM SYSTEM W/VOX. MAY BE USED IN HEADSET
UM : EA
Estimated Weight: 1.7

Brand:

RTS
The Audiocom ICW-6 represents the ultimate in reliable, rugged, and flexible security and ticket booth communications equipment. Unique audio-shaping circuitry and enhanced VOX (Voice Threshold Level Activation) operation ensure maximum voice intelligibility is achieved. Installation is quick and easy with our 2-piece, super rugged, maintenance-free polycarbonate enclosure. 
*Handset and Gooseneck Microphone sold separately.
FEATURES
Speeds Ticket Window Traffic Flow –No more frustrated customers waiting in long lines. Superior audio quality and level control from our unique audio-shaping circuitry ensure maximum voice intelligibility for quick and accurate transactions.
Reduces Costly Errors–Stop wasting money. Enhanced VOX and full-duplex design eliminate frustrating interruptions in audio for more natural conversations leading to a substantial reduction in costly errors.
Gooseneck or Headset Operation–Customize your user interface and maximize efficiency with your choice of two (2) hands-free operation modes. Gooseneck microphone operation enables users to move freely to access cash drawers or information sheets without being tethered by a headset. Headset operation provides a higher level of privacy and reduces ambient noise levels in multi-user environments.
Easy Installation and Set-up–Heavy duty mounting hardware and an easy mounting configuration make installing the ICW-6 fast and simple. Utilize your choice of a 2 ½ inch mounting hole or four (4) smaller mounting holes. Either way, you'll save time and money with the fastest and easiest installation in the industry.
In addition, there are no external VOX adjustments. Internal microphone threshold adjustments allow the installer to set the sensitivity of the inside and outside microphones to the typical noise level at that location. This ensures optimum performance so the microphones are only active when in use. 
Superior Audio Quality–You never get a second chance to make a first impression. First contact with you customer is usually at the ticket booth. Crackled, interrupted, and garbled audio is not what you want that impression to be. With unique audio shaping circuitry, enhanced VOX operation and natural sounding full duplex design, your customers hear exactly what you want them to. 
Improved Durability–With all of the things you have to worry about, your security communications system shouldn't be one of them. Super strong, high-tech polycarbonate fiber resin material makes the ICW-6 virtually indestructible.