Item # BC800NM
BC800NM, SINGLE BAY NMH CHARGER FOR TR-1/ 700/ 800/ 825/ 80N/ RKP-4 WITH US POWER CORD AND ONE
Usually ships in 3-7 days
Log in to see if custom discounts apply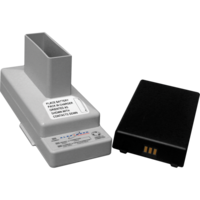 Item # BC800NM
BC800NM, SINGLE BAY NMH CHARGER FOR TR-1/ 700/ 800/ 825/ 80N/ RKP-4 WITH US POWER CORD AND ONE
UM : EA
Estimated Weight: 3.0

Brand:

RTS
The BC-800NM single-bay battery charger provides users with a full featured charger and conditioning unit. The charger is specifically designed to charge the BP-700NM NiMH rechargeable battery pack that is utilized by the TR-700, TR-800, TR-825, TR-1, RKP-4 and the new TR-80N and TR-82N Narrow Band beltpacks. The BC-800NM battery charger offers a conditioning cycle, status indicators and rapid charge capability. The BC-800NM also offers "Intelligent Charging" that optimizes the battery charge cycle and maintains the battery pack at peak capacity for extended periods of time.
FEATURES
Conditioning Cycle
- Provides built-in maintenance capability to maximize battery cycle life.
Status Indicators
- 'Charging', 'Ready', 'Rejected' (dead battery), 'Conditioning Cycle' and 'Power LED' indicators make the BC-800NM simple and easy to use.
Intelligent Charging
- Optimizes the battery
- Battery can remain in the charger indefinitely
- Maintains battery at peak capacity
Rapid Charge Capability
- Charges in less than 2 hours