Item # AM-1BMK2
STEERABLE ARRAY MICROPHONE WITH DSP NETWORK CONTROL INTERFACE, BLACK
MAP:

$2,038.40

/ EA
List Price:

$2,522.50

/ EA
Log in to see if custom discounts apply
Case Qty: 1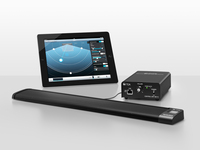 Item # AM-1BMK2
STEERABLE ARRAY MICROPHONE WITH DSP NETWORK CONTROL INTERFACE, BLACK
UM : EA
Estimated Weight: 11.0

Brand:

TOA ELECTRONICS
AM-1 Steering Array Microphone System has achieved the unique function of detecting the sound source location and steering its angle automatically in real-time to capture the targeted sound more efficiently. In addition, webpage access via PC browser software allows the user to adjust the sound source tracking, and make changes to setting parameters. With this technology, the presenter would no longer need to be "microphone-conscious" to get a uniform sound level while speaking and moving.
Features
The array microphone utilizes eight microphone elements to realize an array effect by means of its arrow 50° horizontal angle of directivity.

The microphone employs a unique algorithm to detect and track the position of the sound source and automatically control the directivity of the array microphone in real time so that the targeted sound can be efficiently picked up.

The free-to-download, dedicated AM-1 iOS app allows not only visual monitoring of sound source detection conditions, but also easy function settings. Function settings can also be performed by way of a PC browser.

The array microphone can be muted by way of its mute switch or software control (via the AM-1 iOS app).
Customers Also Viewed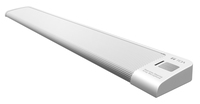 AM-1WMK2
STEERABLE ARRAY MICROPHONE WITH DSP NETWORK CONTROL INTERFACE. WHITE