Item # 2X1SPLIT(RFV)
PASSIVE 2X1 RF SPLITTER/COMBINER, 50 OHM, BNC FEMALE CONNECTORS
MAP:

$99.00

/ EA
List Price:

$125.00

/ EA
Log in to see if custom discounts apply
Case Qty: 6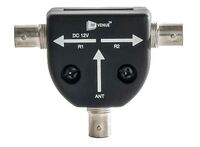 Item # 2X1SPLIT(RFV)
PASSIVE 2X1 RF SPLITTER/COMBINER, 50 OHM, BNC FEMALE CONNECTORS
UM : EA
Estimated Weight: 0.3
Use the 2x1Split to make an 8 channel IEM combiner, create a distributed antenna system, or to tap into your spectrum analyzer to get more insight into your setup.
Features:
One BNC antenna in and two BNC out, or two BNC antennas in and one BNC out.

R1 channel passes 12V DC if DC over coax is provided.
Electrical

RF Carrier Frequency Range

10-1,000 MHz

VSWR

1:2

Impedance

50?

Isolation

20 dB

Insertion Loss

2 dB

Max power into ANT input

30 dBm

Max power to each of R1 & R2

26 dBm

Power requirements

12V DC, 100ma

Physical

Dimensions

72.2X54.9X23.6 mm / 3X2X1"

Weight

62.6g / 2.2 oz