Item # 2220VP - DSP
ASTATIC VARIABLE POLAR PATTERN - BOUNDARY "BUTTON" MIC - DSP CONTROLLED
Usually ships in 3-7 days
Log in to see if custom discounts apply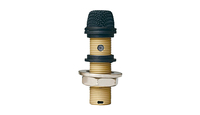 Item # 2220VP - DSP
ASTATIC VARIABLE POLAR PATTERN - BOUNDARY "BUTTON" MIC - DSP CONTROLLED
The 2220VP is a continuously variable pattern condenser microphone system with remote polar control through a Digital Signal Processor. The variable polar pattern with remote control allows the user to precisely adjust the shape of the pick-up pattern for best performance from within a DSP. Utilizing a two-conductor shielded cable (max length 2,000 feet) between the microphone head and the DSP unit, the polar pattern
of the microphone can be adjusted in real time without changing capsules, microphone positions, or inducing noise in the audio chain.
FEATURES
- Choose the 2220VP when an installed boundary style microphone is needed.
- Operating Principal:Permanently-Biased Condenser
- Polar Pattern:Continuously Variable
- Frequency Response:40Hz – 20KHz
- Sensitivity:-29dBV (35 mV) @ 1 Pa
- Power Requirements:P12, P24, P48, 4 mA
WHAT'S INCLUDED
- System includes 220VP boundary microphone with mounting hardware and rubber bushings.
- The system also includes 24" XLR-F to Phoenix-type connector.