Item # SHUREPLUS CHANNELS
MOBILE APP FOR IOS FOR REMOTE MONITORING & CONTROL OF AXIENT DIGITAL, UHFR, ULXD, QLXD, & PSM 1000
Log in to see if custom discounts apply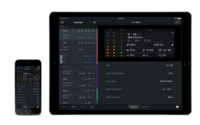 Item # SHUREPLUS CHANNELS
MOBILE APP FOR IOS FOR REMOTE MONITORING & CONTROL OF AXIENT DIGITAL, UHFR, ULXD, QLXD, & PSM 1000
ShurePlus™ Channels delivers time-saving convenience to roam the performance space while monitoring key Shure wireless system parameters from an iOS device. The app automatically discovers and easily connects over Wi-Fi to networked, compatible Shure hardware and relays critical channel information including RF signal strength, audio levels, and remaining battery life. Quickly switch between any of your wireless channels using the sortable channels list.
Mobile control of wireless channel settings can be added via in-app purchase. Unlocking this feature allows remote adjustment of frequency assignments, audio gain, muting, and more. When combined with ShowLink® Remote Control for Axient and Axient Digital systems, transmitter and receiver settings can both be adjusted simultaneously, a powerful addition to the industry-leading Axient and Axient Digital feature set.
Features
Automatic discovery and easy connection to networked Shure systems from an iOS mobile device over Wi-Fi
Real-time, precision monitoring of critical device parameters
RF level metering
Audio level metering
Transmitter battery level
Frequency assignments with band, group, and channel info
RF interference indicator
Encryption status (QLX-D, ULX-D, Axient Digital)
Frequency diversity status (ULX-D, Axient, Axient Digital)
ShowLink signal strength (Axient, Axient Digital)
Channel quality (Axient Digital)
Remote wireless channel control (in-app purchase required to unlock)
Axient, UHF-R, ULX-D, and QLX-D receiver settings

Frequency assignment
Audio output level adjustment
Audio output muting
Channel and device naming
Menu locking

PSM 1000 transmitter settings

Frequency assignment
RF muting
RF output power level
Audio input gain
Audio input level
Audio mode
Channel and device naming
Menu locking

Axient Digital (ADX) and Axient transmitter settings when combined with ShowLink Remote Control

Transmitter gain
RF muting
RF output power level
Frequency changes
Device name
Menu locking
System Requirements
iOS 9-10
802.11n or 802.11ac
wireless router
Read the blog post Wireless Audio Software Trends and Shure Updates for a rundown on how Wireless Workbench® and ShurePlus™ Channels software enhance the capabilities of Shure wireless systems and make remote monitoring easier.