Item # SHURE WIRELESS WORKBENCH
WIRELESS WORKBENCH 7 -FREE DESKTOP WIRELESS CONTROL APP FOR SLXD, QLXD, ULXD, PSM 1000, UHFR, AXIENT
Log in to see if custom discounts apply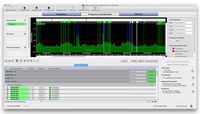 Item # SHURE WIRELESS WORKBENCH
WIRELESS WORKBENCH 7 -FREE DESKTOP WIRELESS CONTROL APP FOR SLXD, QLXD, ULXD, PSM 1000, UHFR, AXIENT
By bringing together networkable and non-networkable Shure and third-party devices combined with RF data, this software allows you to quickly manage and coordinate your wireless devices so you can focus on mixing. Workbench facilitates quick and easy configuration, operation, and monitoring of your wireless devices, and is compatible with the following Shure networked systems:
QLX-D® Digital Wireless System
ULX-D® Digital Wireless System
Axient® Wireless Management Network
PSM® 1000 Personal Monitoring System
UHF-R ®Wireless System
Axient ® Digital Wireless System
SLX-D Digital Wireless System
Inventory Management
Presets enable users to save sets of parameters to a file and quickly apply them to one or more selected devices.
Frequency Coordination
Scan peaks can be managed and classified with greater flexibility and extended equipment profiles.

Intermod spacings can be ignored for groups of frequencies during frequency coordination.

Coordination order customization can be performed ad-hoc in the Coordination Workspace.
Live Monitoring
Timeline is a new logging utility designed to capture important channel status information over time, such as RF level, audio level, interference detection, ShowLink® Signal Strength, and more. This feature records data for extended durations with efficient file storage, enabling users to accurately archive and review the performance of their wireless systems.
Enterprise Networking                                                                   
Remote Device Connection enables users to connect Wireless Workbench to devices across subnets.

Access Control enables devices to be protected from unauthorized changes via Shure software.
More Info - Wireless Workbench Quick Start Guide