Item # QLXD24/SM58-G50
QLX-D DIGITAL WIRELESS HANDHELD SYSTEM WITH QLXD4, & QLXD2/SM58 SM 58 WIRELESS HANDHELD MIC
MAP:

$1099

/ EA
List Price:

$1,329.00

/ EA
Log in to see if custom discounts apply
Case Qty: 2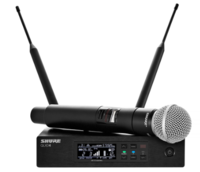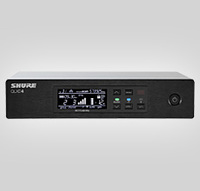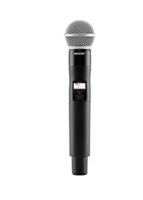 Item # QLXD24/SM58-G50
QLX-D DIGITAL WIRELESS HANDHELD SYSTEM WITH QLXD4, & QLXD2/SM58 SM 58 WIRELESS HANDHELD MIC
UM : EA
Estimated Weight: 32.0

Brand:

SHURE
QLX-D Digital Wireless delivers defined, streamlined performance with transparent 24-bit digital audio. Combining professional features with simplified setup and operation, QLX-D offers outstanding wireless functionality for demanding live sound events and installations.
Shure digital wireless technology enables QLX-D to transmit clearly detailed audio with extended, virtually flat frequency response. Designed to be highly RF spectrum efficient, QLX-D can operate more than 60 compatible channels simultaneously in a single frequency band. Automatic channel scan and IR sync make finding and assigning an open frequency quick and easy. Ethernet connection provides networked channel scanning across multiple receivers and Shure Wireless Workbench® control software compatibility for advanced frequency coordination. AES-256 encryption comes standard and can be easily enabled for secure wireless transmission.
QLX-D also adds Shure rechargeable power options to provide dramatic long-term cost savings and extended transmitter battery life over alkaline batteries, and battery metering that reports remaining runtime in hours and minutes. With clearly defined performance and innovation, QLX-D delivers the very latest in digital wireless technology from Shure.
Features
Transparent 24-bit digital audio

Extended 20 Hz to 20 kHz frequency range (microphone dependent)

120 dB dynamic range

Digital predictive switching diversity

64 MHz tuning bandwidth (region dependent)

More than 60 available channels per frequency band (region dependent)

Up to 17 compatible systems per 6MHz TV band; 22 systems per 8 MHz band

Easy pairing of transmitters and receivers over IR scan and sync

Automatic channel scan

Ethernet networking for multiple receiver systems

Network channel scanning configures open frequencies for networked receivers

Compatible with Shure Wireless Workbench 6 control software

Remote control from a mobile device or tablet via ShurePlus™ Channels app

AES-256 encryption for secure wireless transmission

Elegant and easy-to-use interface with high-contrast LCD menu

Compatible with external control systems such as AMX or Crestron

Professional-grade all-metal construction

Transmitters use 2 AA batteries or Shure rechargeable battery
| | |
| --- | --- |
| RF Carrier Frequency Range | 470–937.5 MHz, varies by region (See Frequency Range and Output Power table) |
| Working Range | 100 m ( 328 ft) (Note: Actual range depends on RF signal absorption, reflection and interference.Note: Actual range depends on RF signal absorption, reflection and interference.) |
| RF Tuning Step Size | 25 kHz, varies by region |
| Image Rejection | >70 dB, typical |
| RF Sensitivity | -97 dBm at 10-5 BER |
| Latency | <2.9 ms |
| Audio Dynamic Range | System Gain @ +10 >120 dB, A-weighted, typical |
| Total Harmonic Distortion | -12 dBFS input, System Gain @ +10 <0.1% |
| System Audio Polarity | Positive pressure on microphone diaphragm produces positive voltage on pin 2 (with respect to pin 3 of XLR output) and the tip of the 6.35 mm (1/4-inch) output. |
| Operating Temperature Range | -18°C (0°F) to 50°C (122°F) (Note: Battery characteristics may limit this range.) |
| Storage Temperature Range | -29°C (-20°F) to 74°C (165°F) (Note: Battery characteristics may limit this range.) |
Customers Also Viewed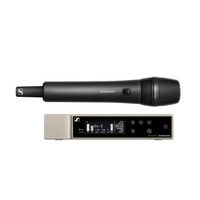 EW-D 835-S SET (Q1-6)
EWD DIGITAL VOCAL/HANDHELD SYSTEM: 1 EWD EM SINGLE CHANNEL RECEIVER, 1 HANDHELD TRANSMITTER W/SWITCH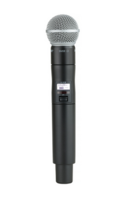 ULXD2/SM58=-G50
ULX-D DIGITAL WIRELESS HANDHELD TRANSMITTER WITH SM 58 MICROPHONE / HANDHELD MIC COMPONENT ONLY

ULXD4=-G50
ULX-D DIGITAL SINGLE-CHANNEL WIRELESS RACKMOUNT RECEIVER / HALF-RACK / RECEIVER COMPONENT ONLY